Vialli Bold Mens T- Shirts
The Vialli Bold Men's T-Shirts are a collection of fashion-forward and striking t-shirts designed for those who want to make a statement with their clothing. These t-shirts combine bold design elements with comfortable materials, creating a distinctive look that's both eye-catching and stylish.
Key Features:
Bold Design:
Vialli Bold Men's T-Shirts are known for their striking and attention-grabbing designs. They often feature vibrant colors, unique graphics, and bold patterns that set them apart from traditional t-shirts.
Comfortable Fabric:
These t-shirts are typically crafted from high-quality and soft materials such as cotton or cotton blends. This ensures not only a comfortable fit but also breathability, making them suitable for various seasons.
Versatility:
While these t-shirts are fashion-forward, they are also versatile. They can be paired with jeans, shorts, or even dressed up with chinos for a trendy and casual look suitable for different occasions.
Expressive Style:
Vialli Bold Men's T-Shirts allow individuals to express their personality and style. The bold designs often convey messages, themes, or artistic elements, allowing wearers to showcase their interests and preferences.
Variety:
The Vialli brand frequently releases new and innovative designs, providing a wide range of options for fashion-conscious individuals. This variety allows you to choose t-shirts that align with your personal taste.
Quality Construction:
Vialli typically emphasizes quality construction, ensuring that their t-shirts are not only visually striking but also durable and long-lasting.
Casual Chic:
These t-shirts strike a balance between casual comfort and a chic, trendy appearance. They are suitable for casual outings, social events, and even some semi-formal settings, depending on the specific design.
Product details
Basic Vialli T-Shirt
V-Neck T-Shirt
Short sleeve
Vialli rubberised logo on the front
Italian coloured inner collar
Green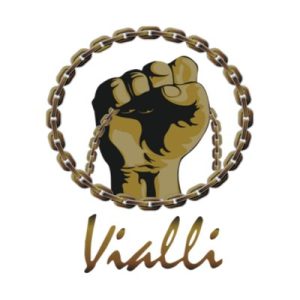 SKU: 43208